A modular kitchen is one that is made in a factory and custom-designed to suit your needs and budget. It has different modulates assembled together that are finished with a variety of finishes for a sleek look.  Check out some of our popular modular kitchen designs.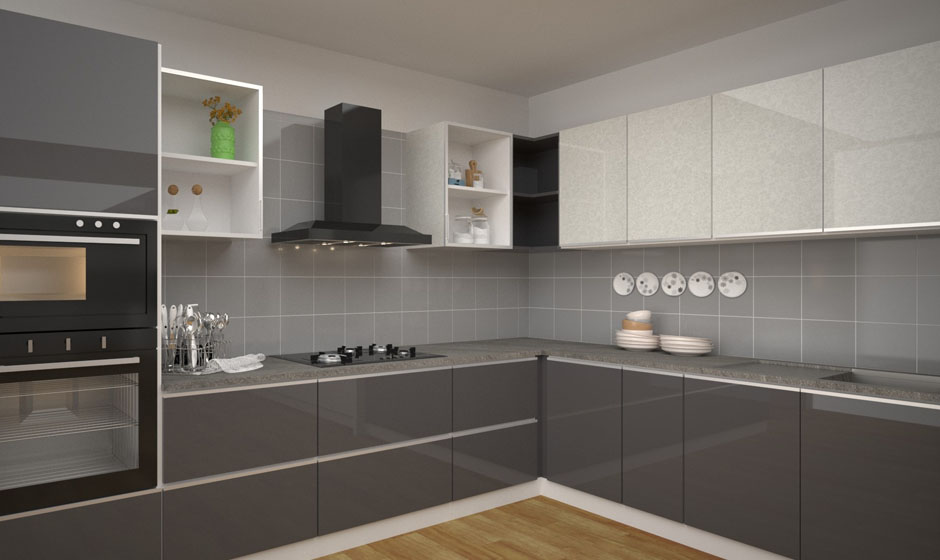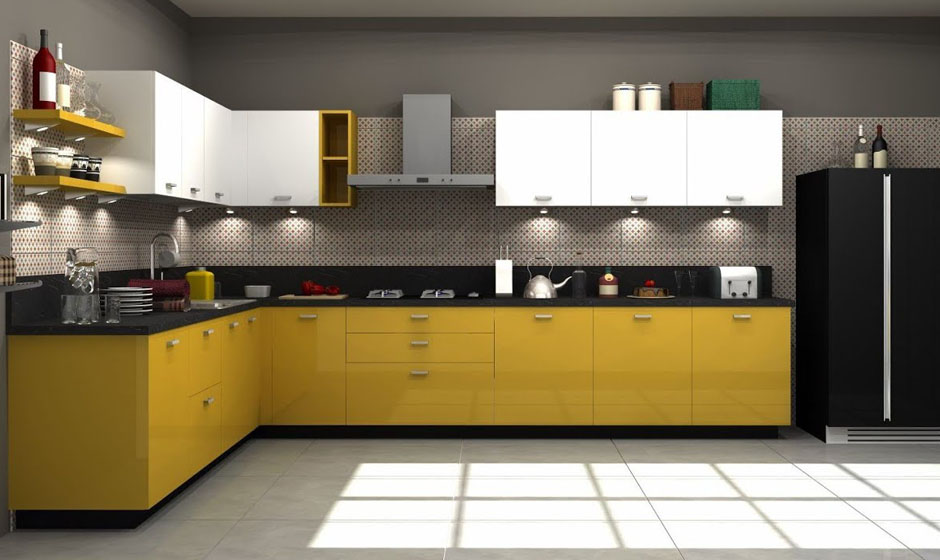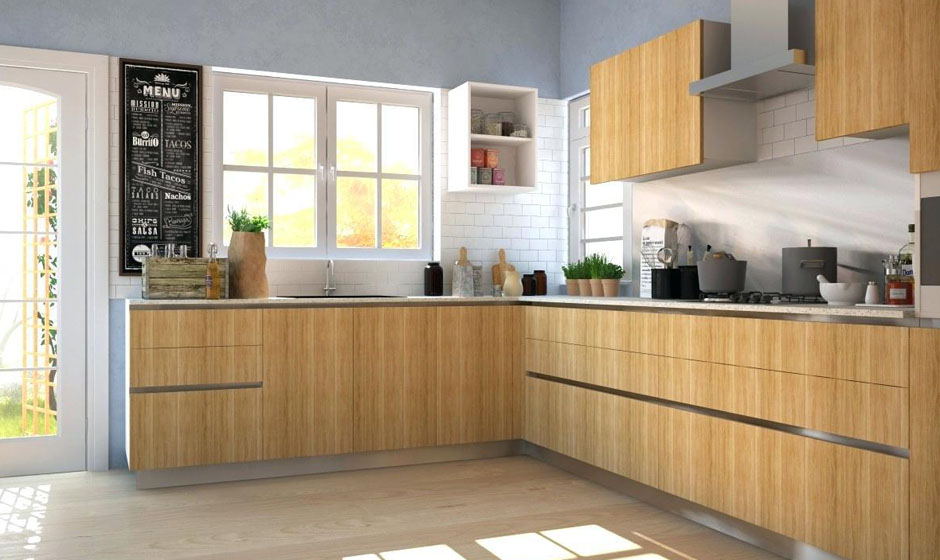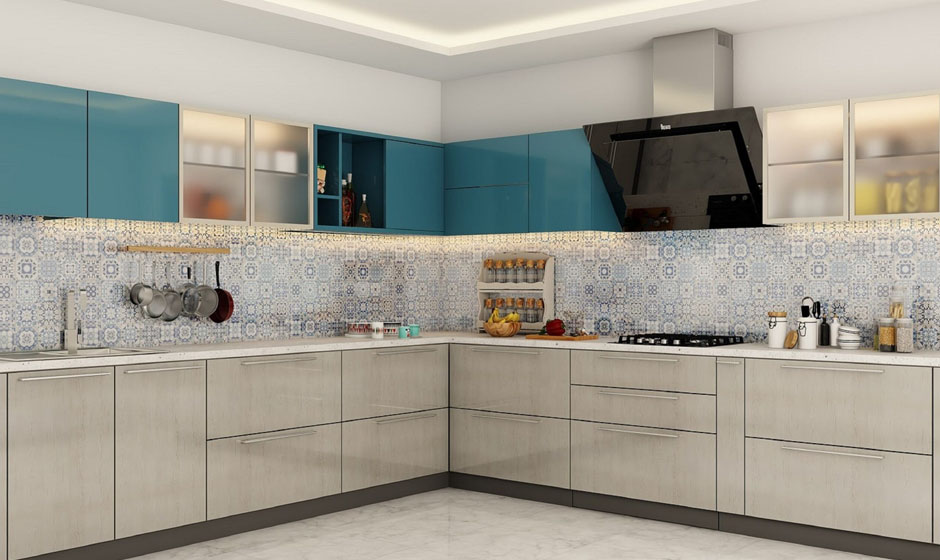 L-Shaped Modular Kitchen Design
This modular kitchen has floral printed tiles that make this space more charming. Inspired by the colours of the sea, this kitchen interiors is soothing to look at and spacious to work in with its clever storage solutions.
Special Features
An oil pull out.
A skirting drawer.
Cabinets with frosted glass.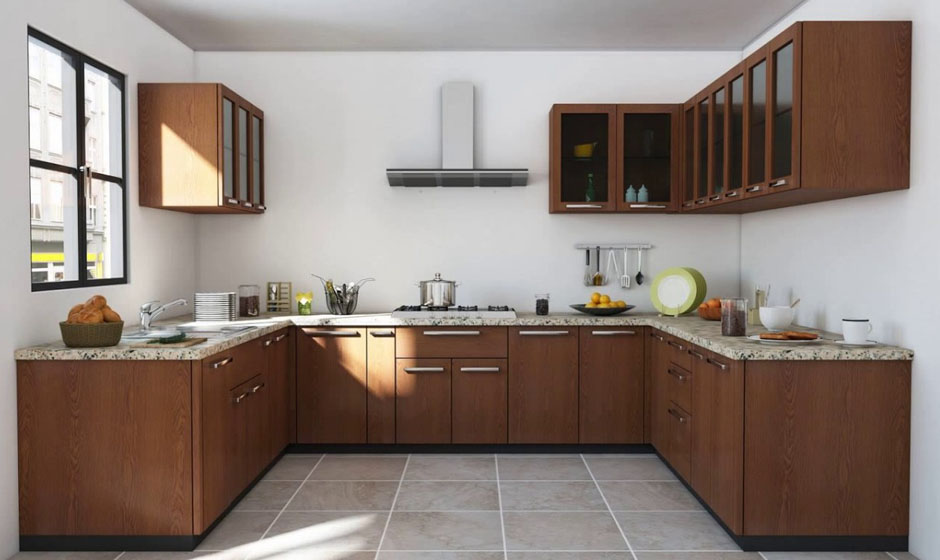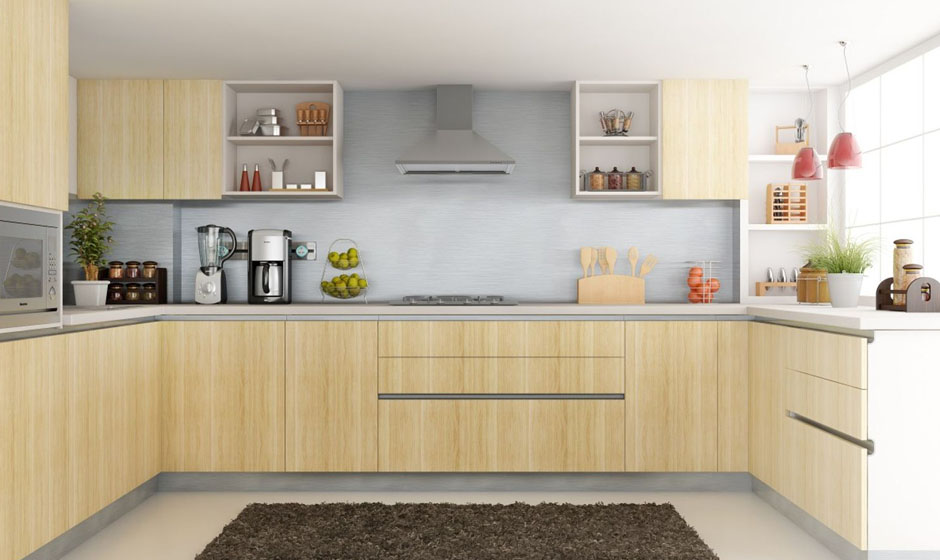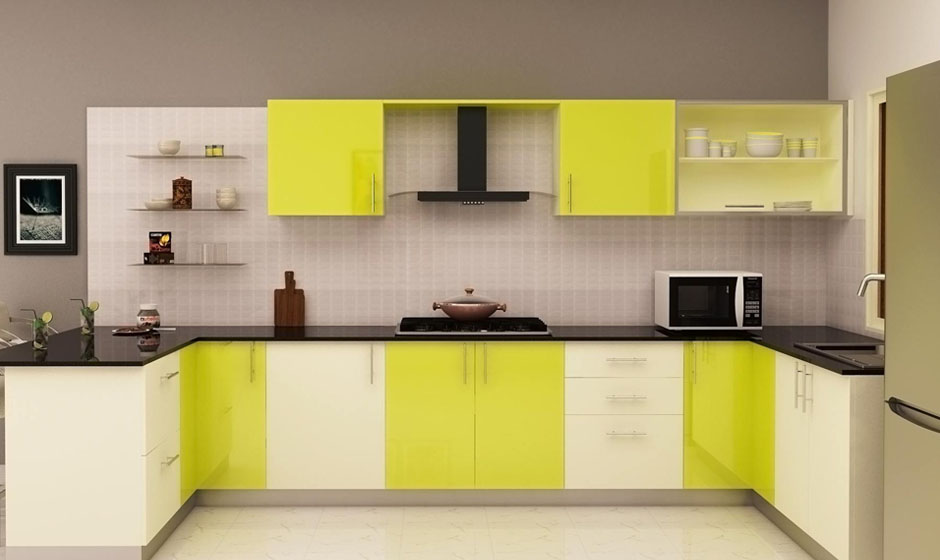 U-Shaped Classic Styled Kitchen Design
This kitchen in pastel green is designed for large, spacious homes. Ample storage option with cabinets and drawers help with better organisation.
Special Features
An inbuilt cutlery tray in the drawer for clean organisation
50 Kg tandem drawer for storing heavy groceries
Built-in dustbin under the sink that saves space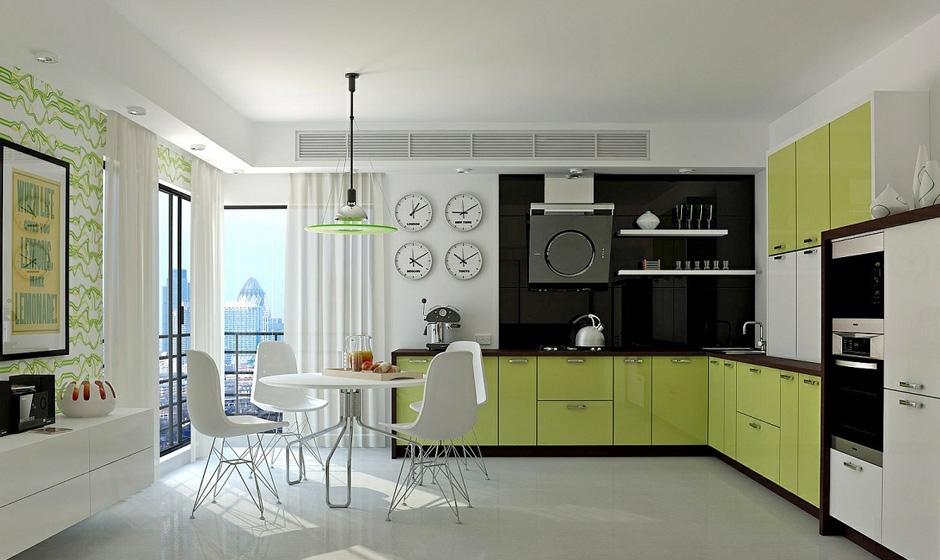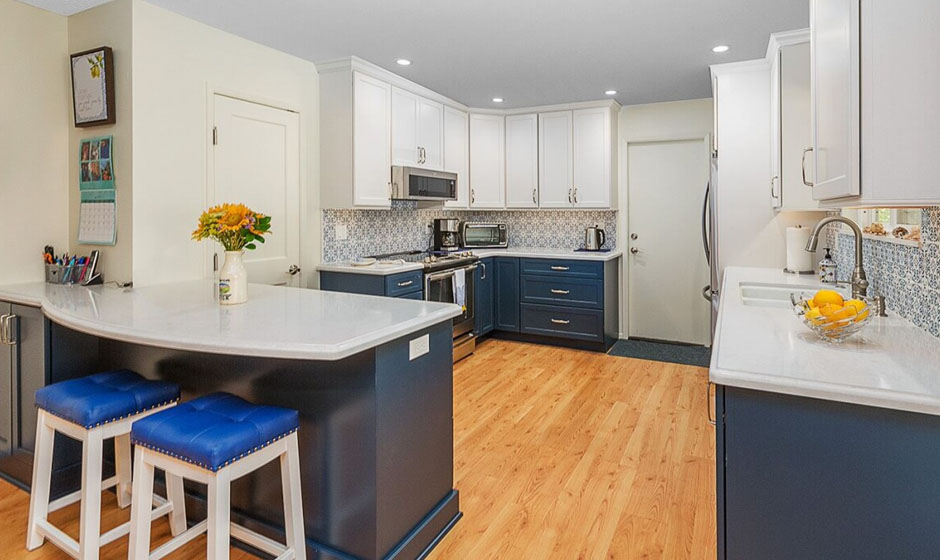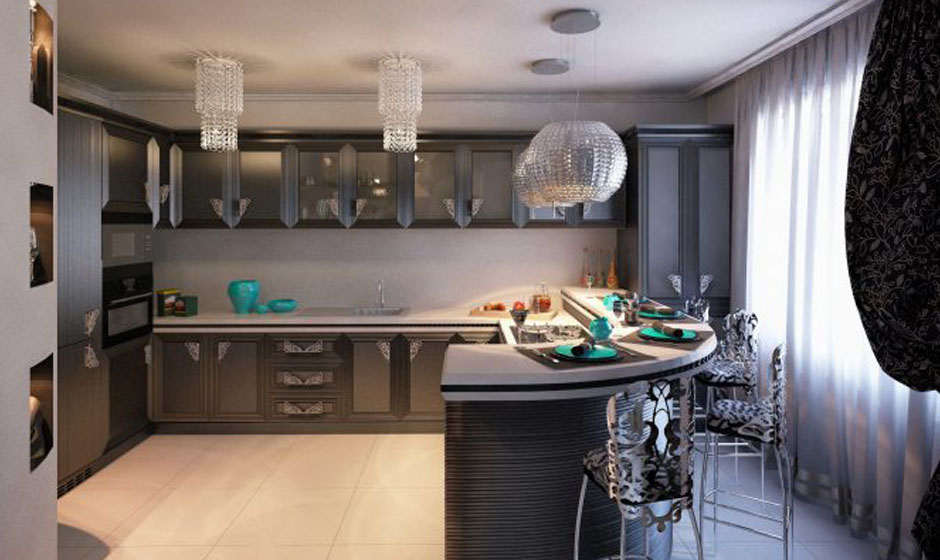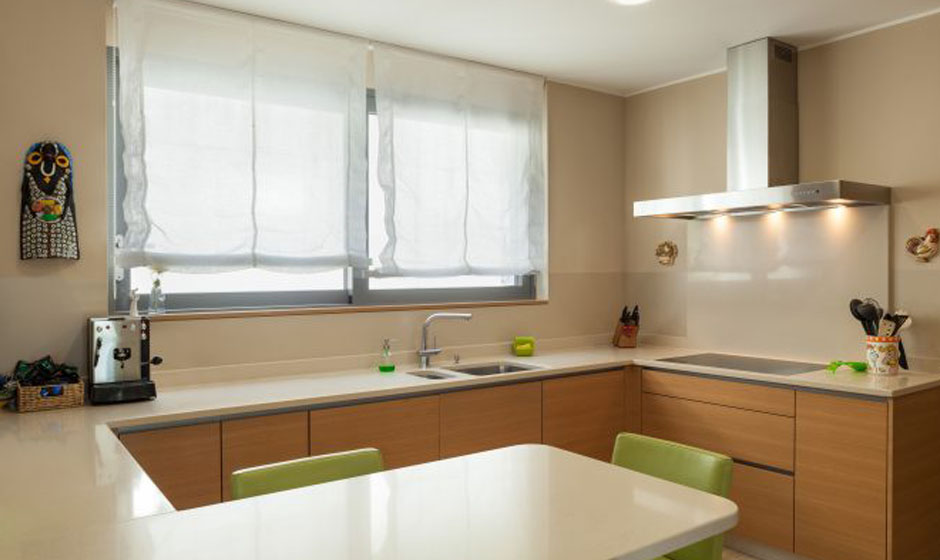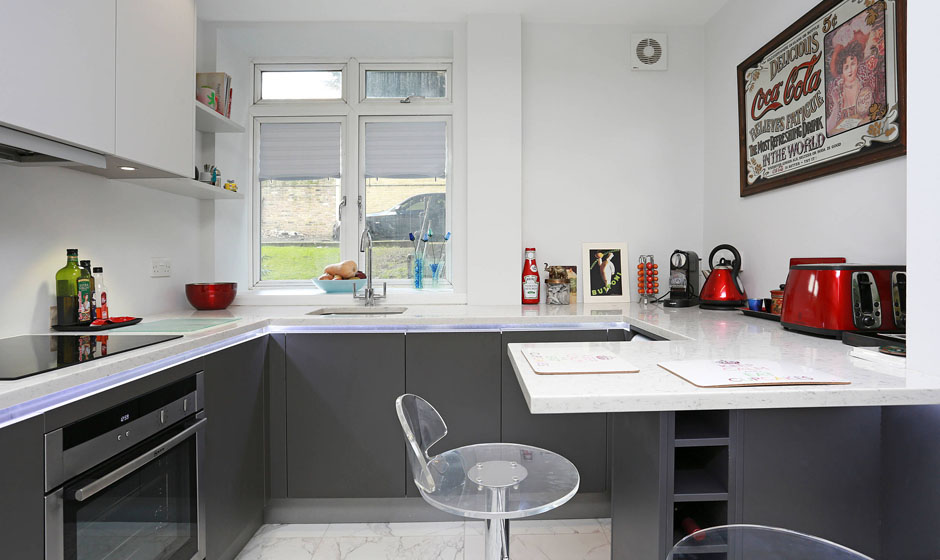 G-Shaped Bold Kitchen Design
This kitchen in two contrasting colours of black and lime green makes a bold statement. A breaksfast counter adds to the multifunctionality of the space.
Special Features
A magic corner unit makes use of blind corners.
Cabinet with diagnol lift up shutters.
An oil pull-out.
Bottom cabinets across the entire kitchen provide ample storage.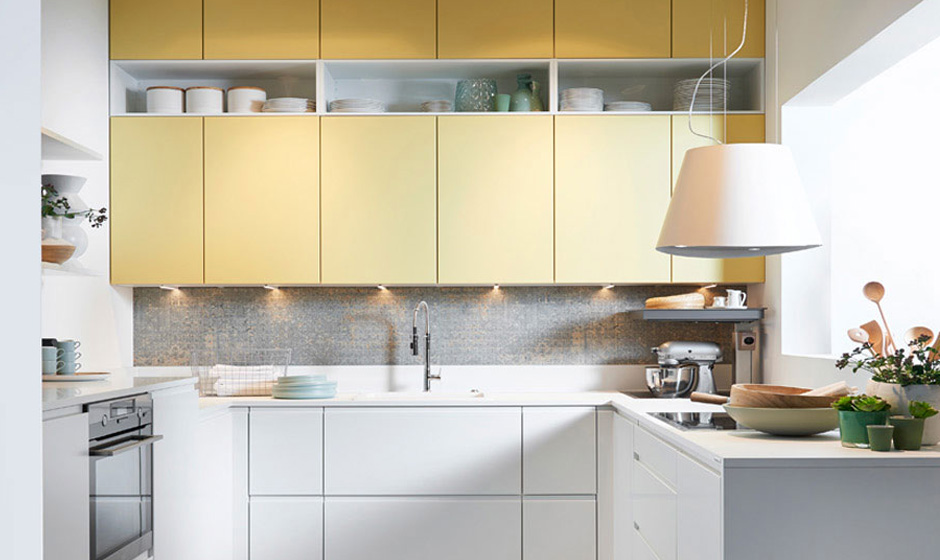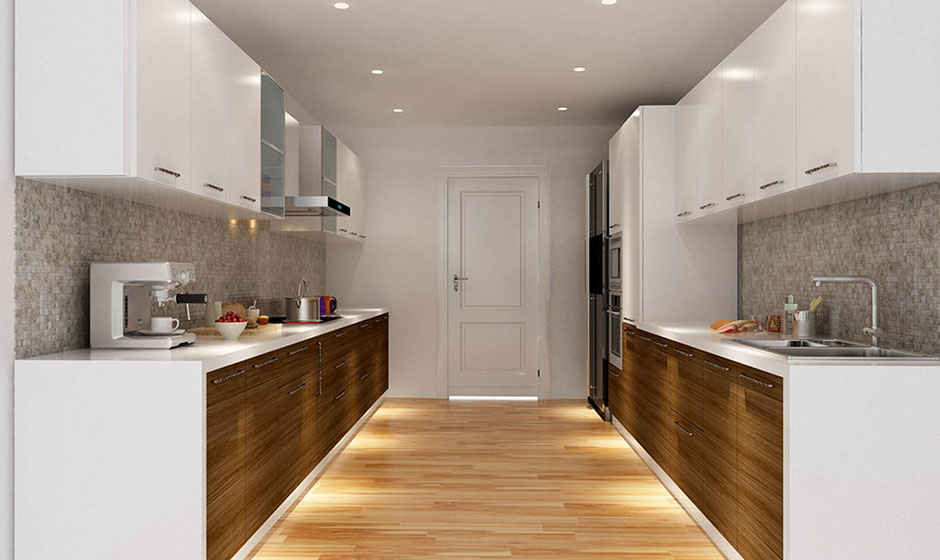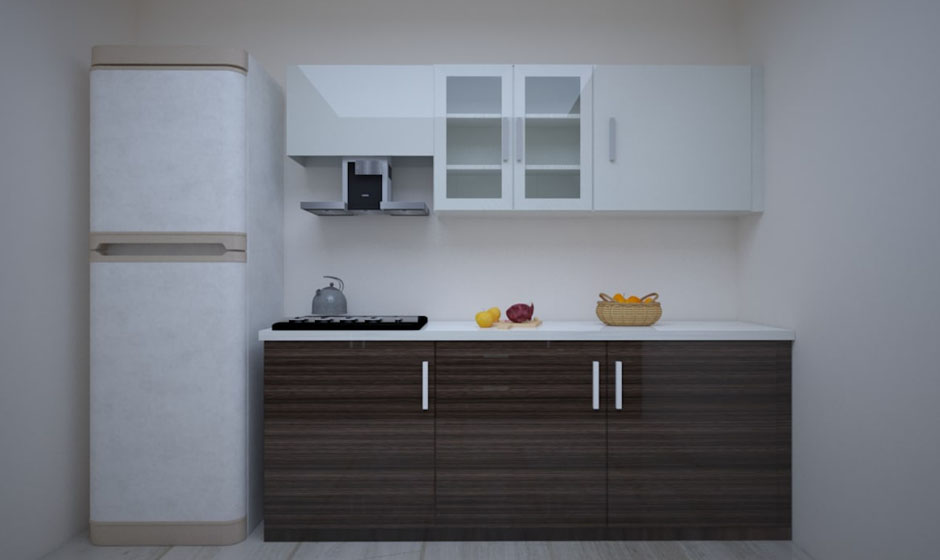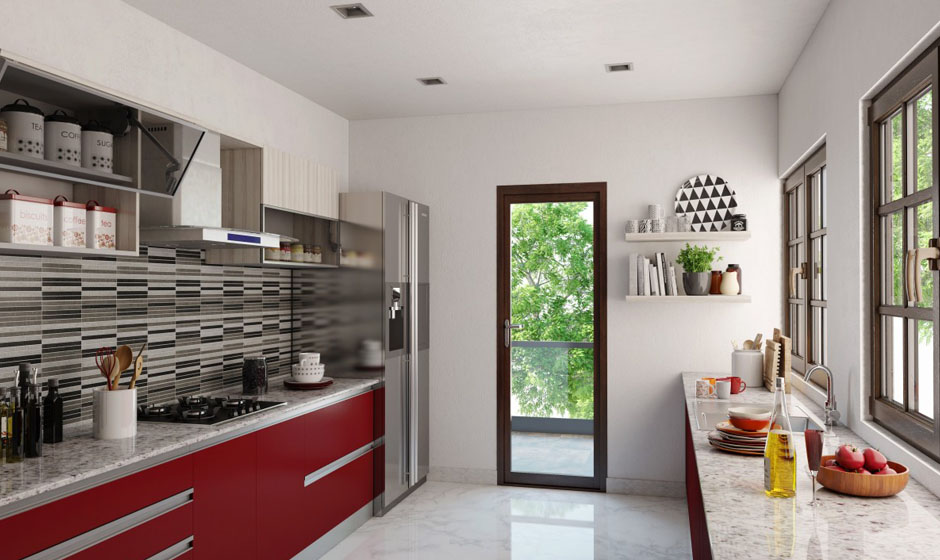 Parallel Shaped Modular Kitchen Design
This parallel shaped kitchen designed in yellow and grey keeps up with Pantone's colour of 2021. A tiled backsplash brings in fun and character to this cooking space.
Special Features
A patterned tiled backsplash in yellow and white makes this space fun and bright.
Handleless overhead and base cabinets lend a seamless look.
Open shelves to display jars or other small items breaks the monotony of cabinets.
A chimney has been built into the design to keep this space smoke free.
In layman terms, finishes are those elements that are fixed to the final structure of furniture. They are the final surface of the material and are used to protect it from impact, water, frost, corrosion, abrasion, stains et al. Finishes are also used to offer style, texture, colour and uniqueness to modular furniture design keeping with the overall interior design theme of the room. Laminates, acrylic, veneer, lacquered glass are some examples of finishes that are used on shutters, wardrobes, cabinets, entertainment units and other surfaces.
This finish gives the most premium high glossy look.
we do have a specialized automate spray booth with ahu. with our high advanced spray guns we achieve dust particle free finish.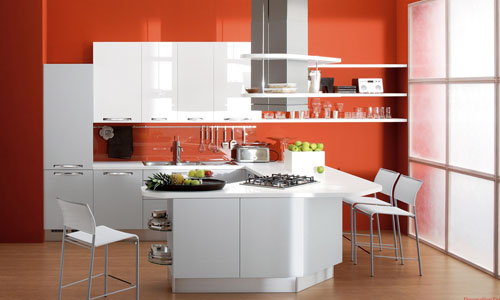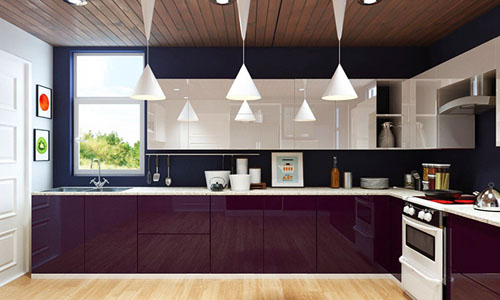 Acrylics are thin sheets made of an acrylic polymer. It is a synthetic material available in a variety of designs, colours and patterns. They are pasted on shutters of modular furniture like kitchen cabinets. They are stain-resistant, water-resistant and highly durable.
It is a synthetic material available in a variety of designs, colours and patterns which are pasted on shutters of modular furniture. They are stain and water resistant and highly durable and are imported from Germany
Veneers are a finish. They are thinly sliced sheets of real wood (usually as thin as 3 mm)coated with varnish to bring out the natural grain of wood. Unlike laminates, every sheet of veneer has a unique grain pattern as they are not printed in a factory. Veneers can be buffed and polished periodically to look like new if they wear out over time. This property makes veneers cost-effective in the long run though they are more expensive in comparison to other options. They are the closest you can get to solid natural wood in modular furniture design.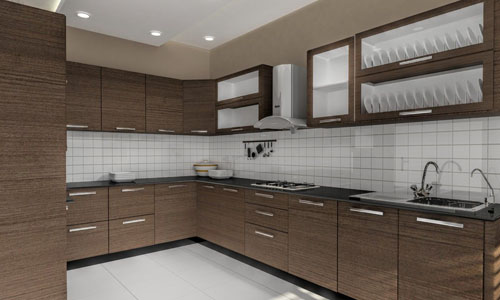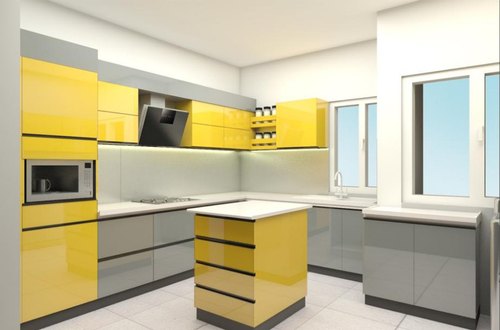 Lacquered glass or ceramic glass is a popular finish that goes well with HDF. It is used on shutters and lends a classy glossy look. It is highly durable, scratch and water-resistant and does not fade or lose lustre with time. Most of the lacquered glass used in modular furniture is from Saint Gobain, a large player in the market. Lacquered glass is available in a wide assortment of colours.
HDHMR stands for High-Density High Moisture Resistance. It is an improved version of plywood and one that is excellent to create sturdy and robust pieces of wooden furniture, especially those used in extreme moisture such as the kitchen or outdoors.  As the name suggests it is moisture resistant. HDHMR board is made by blending fibre chips, forest wood scrap through a construction process. Frosted glass is a type of glass with a translucent look. It is made by etching acid on clear glass. They are ideal for units that don't require high visibility to what is inside or on the other side such as cabinets, partitions or wardrobe shutter.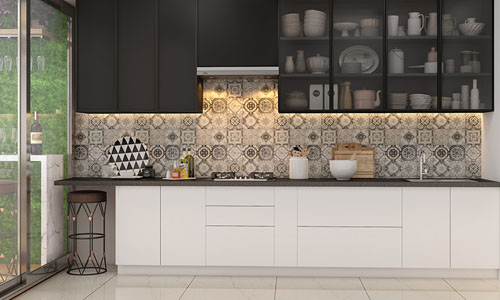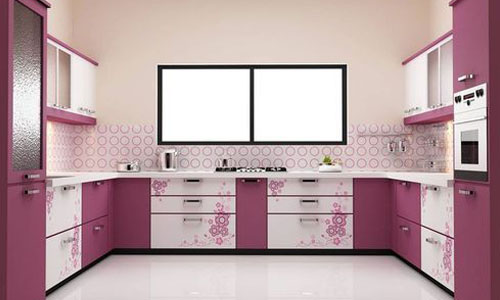 Duco is a versatile paint finish that is applied on modular furniture. Duco can achieve matte or glossy finish but is less than that of acrylic or high gloss laminate. It isn't very durable as it's prone to chipping on impact. It may also show crack lines at joints after many years and if you do opt for this finish make sure you hire a professional for it.