Wardrobes are the most important component of your home and provide much-needed storage space for your varied needs. We provide customised wardrobe designs for your home according to your taste and budget. Every DC home is unique and designed as per the space needs of the homeowner. Check out latest Wardrobe Designs amongst our 5000+ happy customers.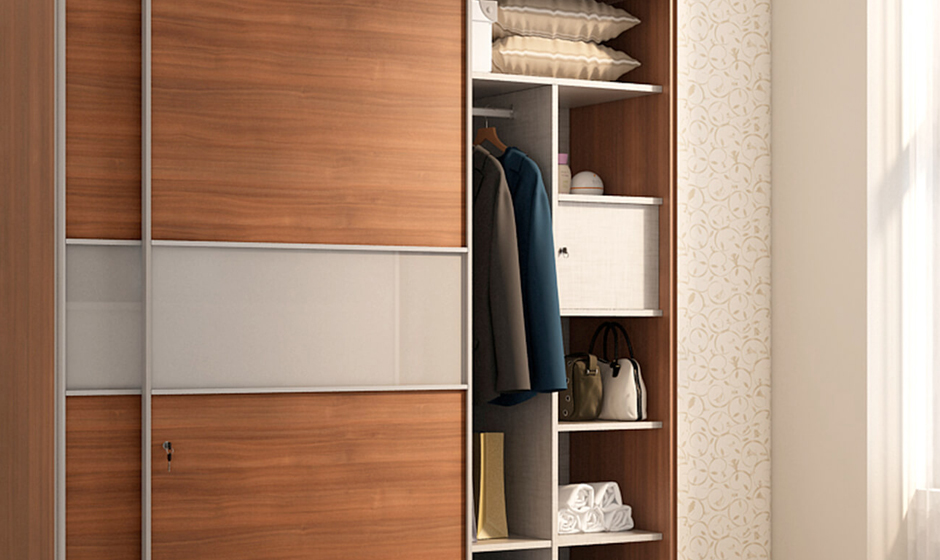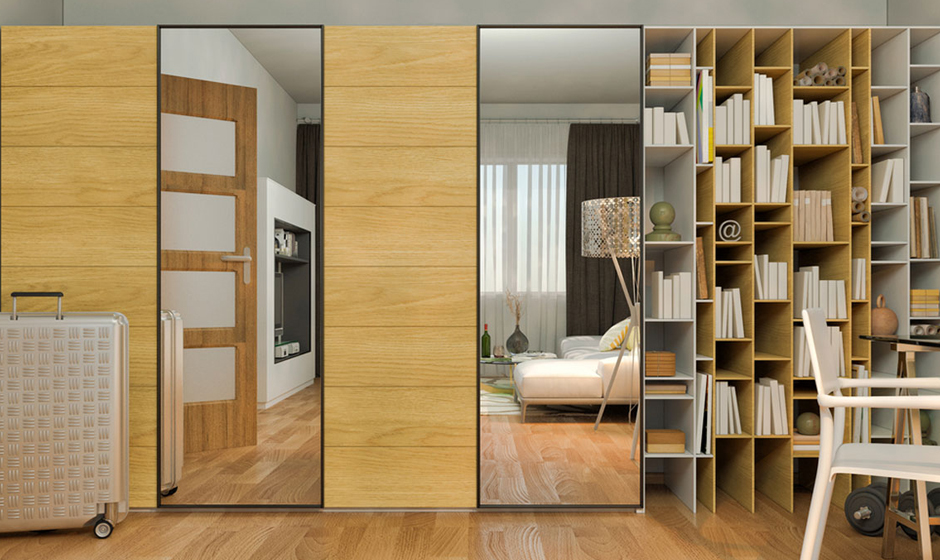 A Smart Floor To Ceiling Wooden Wardrobe Design
A walnut wood wardrobe perfect for people who love to hoard things designed with multiple compartments. This wardrobe is designed smartly from floor to ceiling.
Special Features
An all wood wardrobe with lofts to store things you don't need every day.
A pull-out trouser hanger for the wrinkle-free organisation.
Drawers and shelves inside to maintain a clean dust-free environment.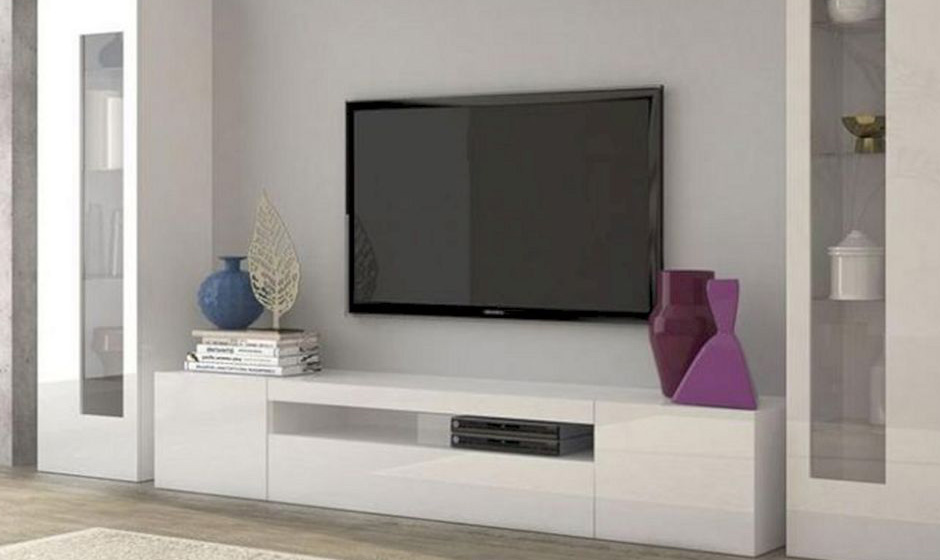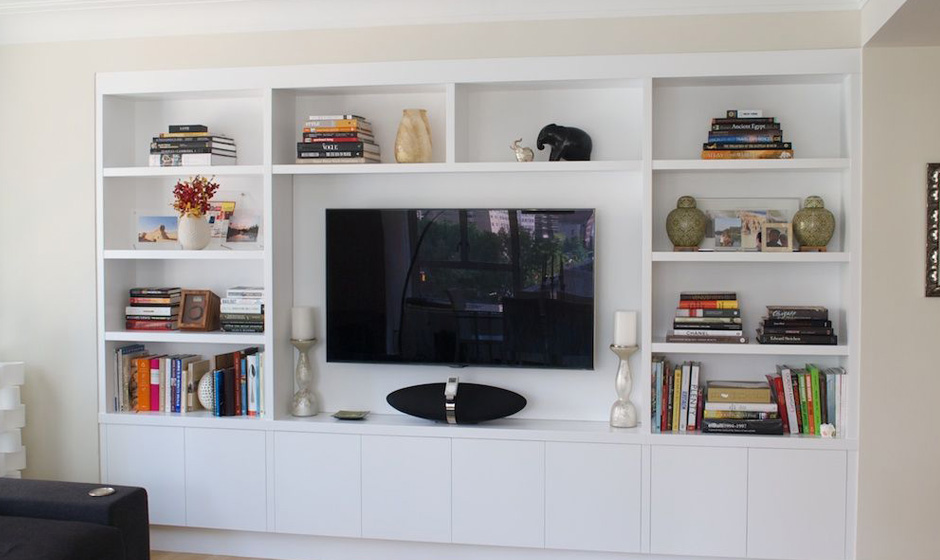 A Wardrobe Designed With An In-built TV Unit
A white and brown wardrobe with sliding doors, a TV unit and hidden storage. This wardrobe is designed for a small bedroom.
Special Features
A flip up TV panel with hidden storage behind.
Push to open drawers take make storage simple and neat.
Sliding doors lend a seamless look and is perfect for small rooms.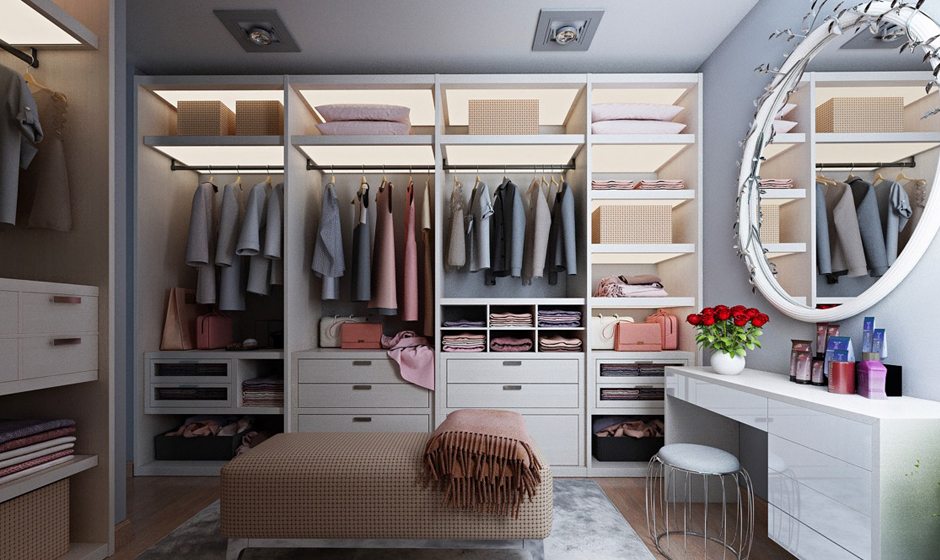 A White Wardrobe Design With A Dressing Unit For Kids Bedroom
A simple beach wood and white coloured wardrobe with plenty of space to store store all your funky junk, perfect for kids bedrooms.
Special Features
An in-built iron board to make ironing your clothes a quick and easy task.
Top and bottom shelves to store all study and play material away.
An attached dressing table with a large mirror.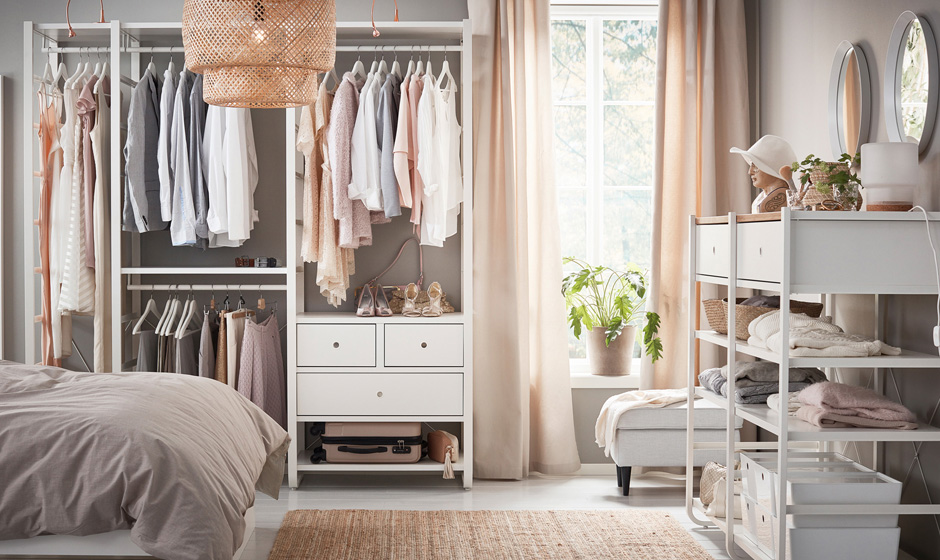 An All Wood Walk-in Closet Adjoining A Master Bedroom
This wardrobe is designed for maximum storage with various options to store your clothing and accessories.
Special Features
A wardrobe with multiple drawers and open shelves for extra storage.
Large compartments to display your best clothing collection.
Deep loft space on top to store winter wear.
Pull down closet rod to bring everything down to your height.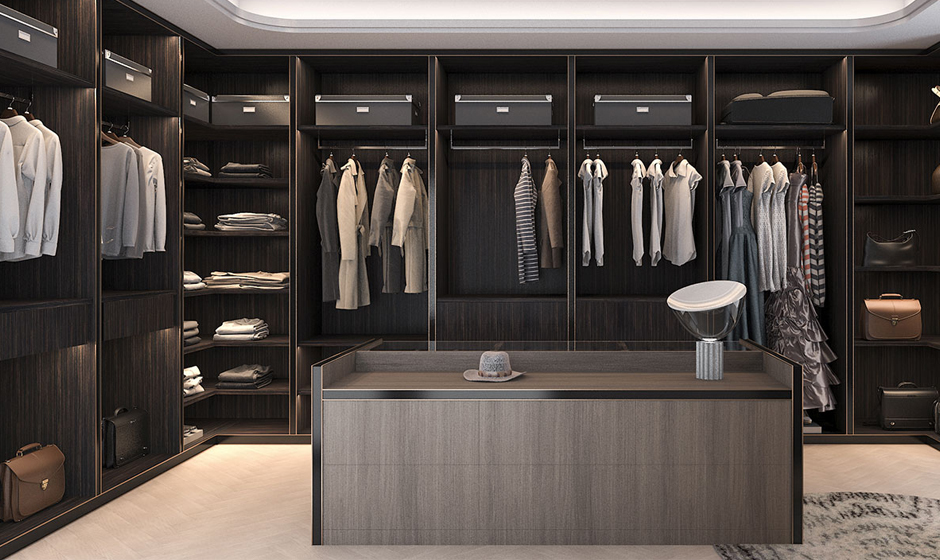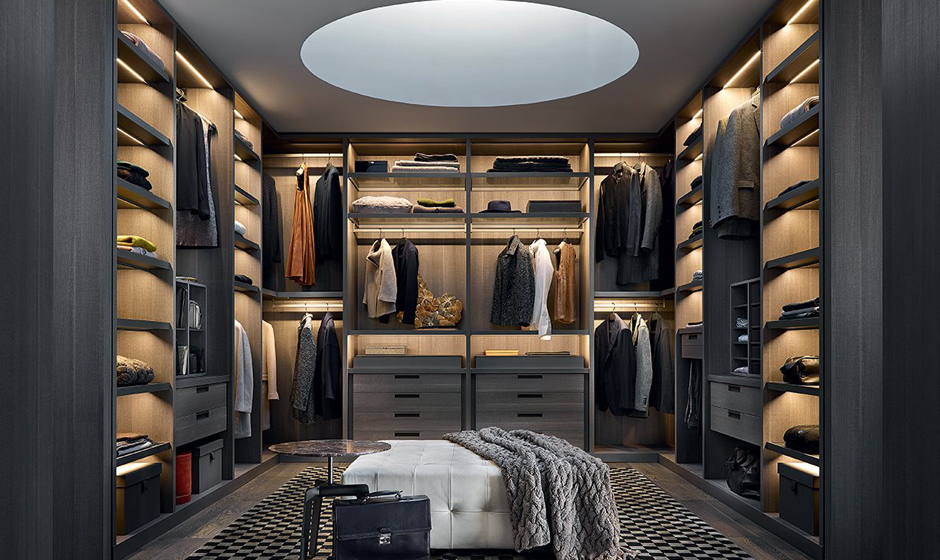 A Walk-in Wardrobe Design With A Dressing Unit
A large wooden walk-in closet with a dressing table alongside to make getting ready a peaceful affair.
Special Features
An L -shaped wardrobe with glass doors and metal framesing lend a chic look.
Open shelves with rods so you can hang your clothes in neatly.
Drawers with glass fronts so you get to see what you store.
Skirting drawers that blend into the wardrobe can be used to put away less frequently used items.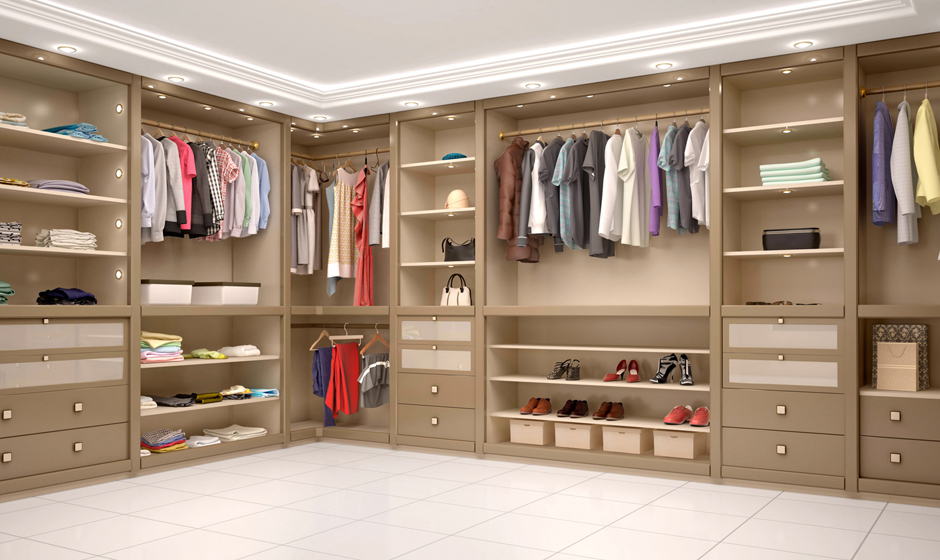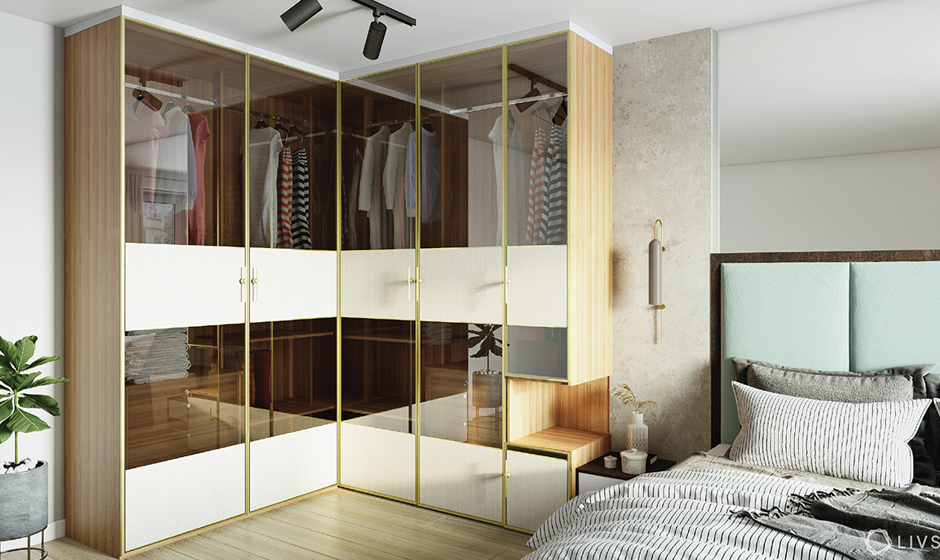 A Floor To Ceiling Wardrobe With Glass Shutters
This wardrobe with glass fronts makes it easy on the eyes when it comes to finding things. It is designed with multiple compartments and drawers for neat segregation of items.
Special Features
A wardrobe with glass doors for a to make access easy
Wooden shelves are built-in for secure storage of bags, shoes and other goods
Hanging steel rods for to natly hang your coats and jackets
An accessory tray to organise your jewellery, watches, and other smaller items.
In layman terms, finishes are those elements that are fixed to the final structure of furniture. They are the final surface of the material and are used to protect it from impact, water, frost, corrosion, abrasion, stains et al. Finishes are also used to offer style, texture, colour and uniqueness to modular furniture design keeping with the overall interior design theme of the room. Laminates, acrylic, veneer, lacquered glass are some examples of finishes that are used on shutters, wardrobes, cabinets, entertainment units and other surfaces.
Boiling Water Proof or BWP is a specially treated plywood. It is made using a special glue that can withstand high humidity and boiling water for extended periods. It is chemically sealed to resist water, pests and works well in both dry and wet environments. It's an ideal choice for base modules, wet areas, balconies, utility areas and terraces. Acrylics are thin sheets made of an acrylic polymer. It is a synthetic material available in a variety of designs, colours and patterns. They are pasted on shutters of modular furniture like kitchen cabinets. They are stain-resistant, water-resistant and highly durable.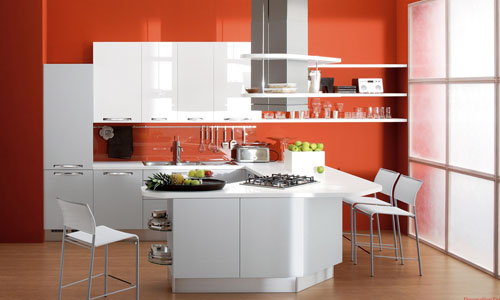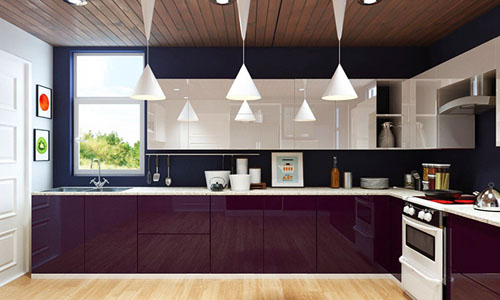 It is a synthetic material available in a variety of designs, colours and patterns which are pasted on shutters of modular furniture. They are stain and water resistant and highly durable and are imported from Germany
Medium Density Fiberboard or MDF is made of the same wood pulp and waste product as HDF. The difference lies in the manufacturing process that results in a less dense product. It doesn't warp or swell and is commonly used to build the structure of modular furniture. Veneers are a finish. They are thinly sliced sheets of real wood (usually as thin as 3 mm)coated with varnish to bring out the natural grain of wood. Unlike laminates, every sheet of veneer has a unique grain pattern as they are not printed in a factory. Veneers can be buffed and polished periodically to look like new if they wear out over time. This property makes veneers cost-effective in the long run though they are more expensive in comparison to other options. They are the closest you can get to solid natural wood in modular furniture design.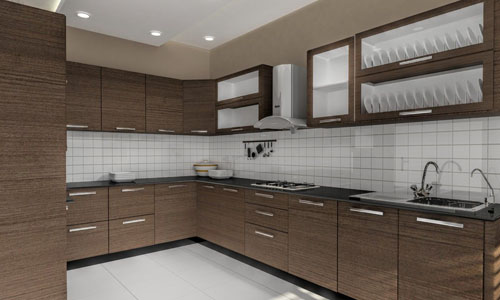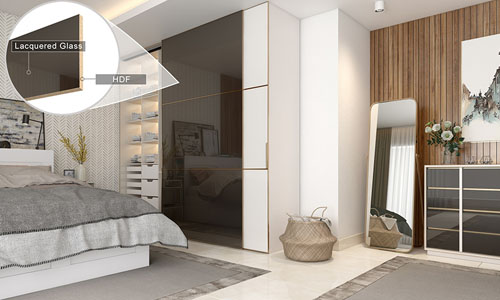 High-Density Fiberboard or HDF is a type of engineered wood made from wood pulp, wood waste and chips mashed together. As the name suggests, it is much harder than MDF. This material is not moisture resistant and can absorb water. Since it is very strong material, it is used in those pieces of furniture that need a firm structure. Lacquered glass or ceramic glass is a popular finish that goes well with HDF. It is used on shutters and lends a classy glossy look. It is highly durable, scratch and water-resistant and does not fade or lose lustre with time. Most of the lacquered glass used in modular furniture is from Saint Gobain, a large player in the market. Lacquered glass is available in a wide assortment of colours.
HDHMR stands for High-Density High Moisture Resistance. It is an improved version of plywood and one that is excellent to create sturdy and robust pieces of wooden furniture, especially those used in extreme moisture such as the kitchen or outdoors.  As the name suggests it is moisture resistant. HDHMR board is made by blending fibre chips, forest wood scrap through a construction process. Frosted glass is a type of glass with a translucent look. It is made by etching acid on clear glass. They are ideal for units that don't require high visibility to what is inside or on the other side such as cabinets, partitions or wardrobe shutter.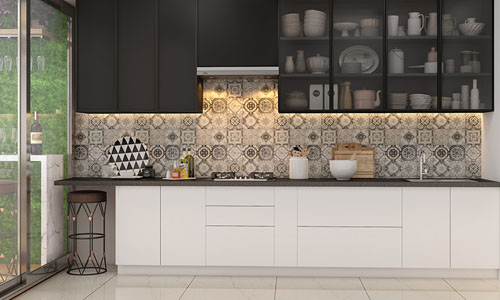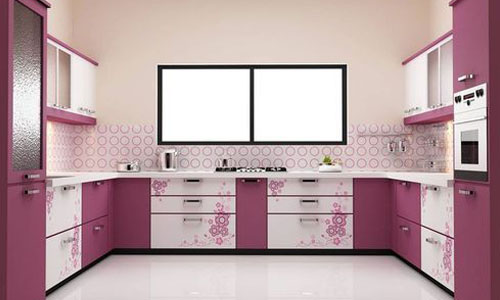 Duco is a versatile paint finish that is applied on modular furniture. Duco can achieve matte or glossy finish but is less than that of acrylic or high gloss laminate. It isn't very durable as it's prone to chipping on impact. It may also show crack lines at joints after many years and if you do opt for this finish make sure you hire a professional for it.